October ushers in the fullness of cozy season and the height of all things fall! We are welcoming this new month with open arms and are ready to fill our homes with the scents of the autumn, give our overworked adrenals some TLC, and make the most of this beautiful time of year. Join us for it all!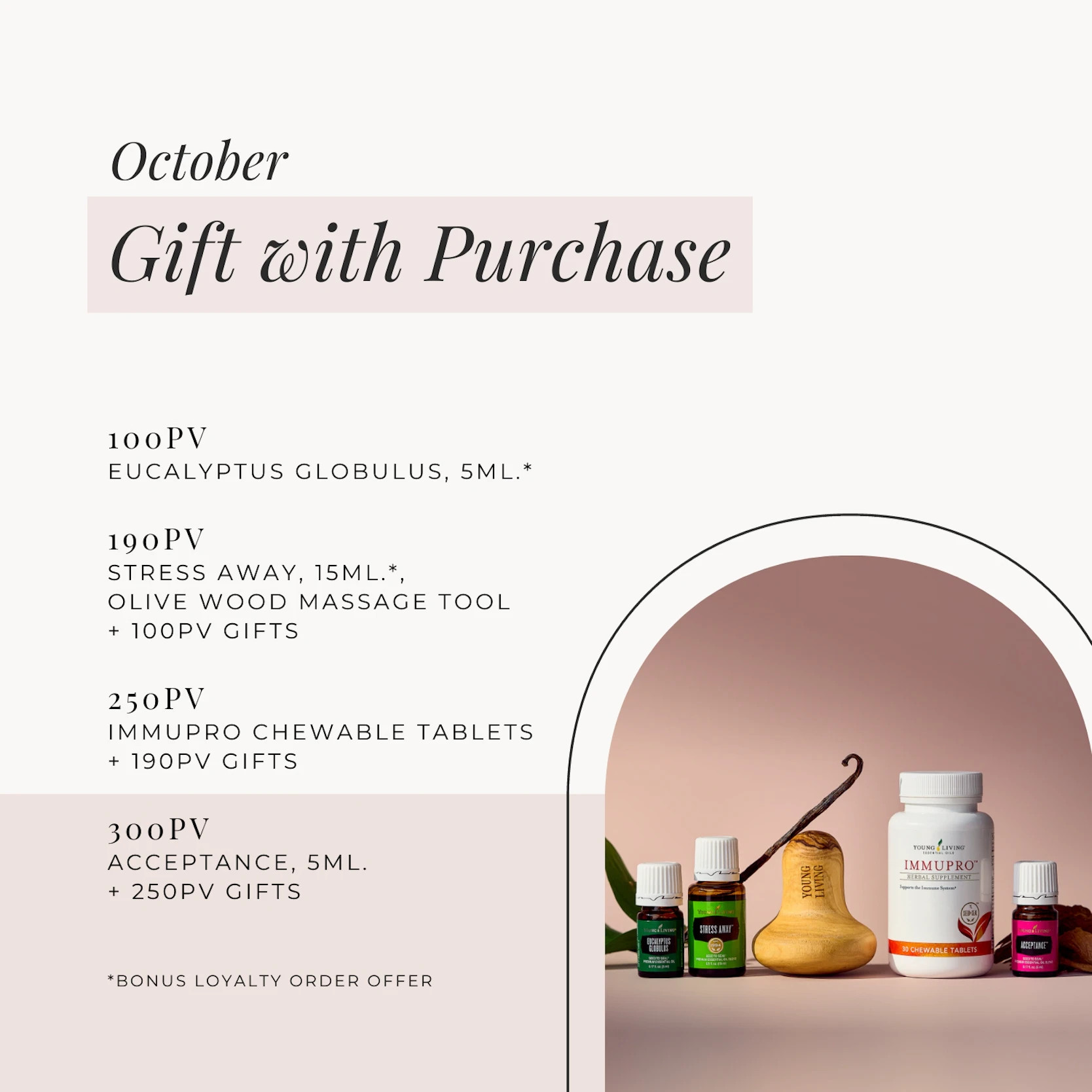 OCTOBER GIFT WITH PURCHASE
Get ready for the coziest cozy season, and stock up on your fall favorites while getting even more goodies for free!!! This month's gift with purchase includes some of our autumn must-haves – ImmuPro, Eucalyptus, Stress Away and MORE!
Here's how it works. You order the products you use all the time - household cleaning products, shampoo and bath gel, toothpaste and mouthwash, and all your favorite oils. Each time you hit a specific tier, a free gift is added to your order!! Win win!
Here's everything to look forward to with the October gift with purchase:With an order of 300PV you will receive:
Retail value: $188.82
Acceptance essential oil blend, 5 mL

Enjoy an intentional "me" moment with Acceptance essential oil blend's floral, woodsy, citrusy aroma while you adapt to new changes in life— whether physical or emotional.* Combine its uplifting aroma with your affirmation practice or morning routine.



ImmuPro chewable tablets, 30 ct.

With the seasons changing, we all have enough to adjust to without the added worry of germs!! Check one thing off your list with ImmuPro – one of our favorite immune supplements. These delicious, wolfberry-flavored, chewable tablets give your body the extra immune system support it needs, day or night. They also include melatonin to encourage restful sleep, so you can tackle whatever "falls" your way!



Loyalty order: Young Living Stress Away essential oil blend, 15 mL

Like a vacation in a bottle, Stress Away essential oil blend is the perfect addition to your favorite skin, hair, and body care products. We love this blend to create a relaxing aroma anytime we need it, and it makes a lovely elevated signature scent!



Olive wood massage tool

Start your evening wind-down with a massage using the olive wood massage tool. The trick is to moisturize your skin with a few drops of your favorite essential oil (Eucalyptus or Cypress are great!) and V-6 Vegetable Oil Complex, then use the handheld massage tool to pinpoint pressure points and soothe those tired muscles. This is also wonderful with Ortho Ease Massage Oil!



Loyalty order: Eucalyptus Globulus essential oil, 5 mL

Come in out of the cold to the bold, invigorating aroma of Eucalyptus Globulus essential oil. Diffuse it or apply it to the head, neck, chest, or under the nose to create a cooling and soothing sensation for those cherished at-home spa moments.
With a 250PV order you will receive:
Retail value: $127.96
ImmuPro chewable tablets, 30 ct.
Loyalty order: Stress Away essential oil blend, 15 mL
Olive wood massage tool
Loyalty order: Eucalyptus Globulus essential oil, 5 mL
With a 190 PV order you will receive:
Retail value: $76.32
Loyalty order: Stress Away essential oil blend, 15 mL
Olive wood massage tool
Loyalty order: Eucalyptus Globulus essential oil, 5 mL
With a 100PV Loyalty Rewards order you will receive:
Retail value: $11.51
Loyalty order: Eucalyptus Globulus essential oil, 5 mL
If you're asking what should I order?! We have you covered!
Create a Loyalty Rewards order with some of these immune and adrenal support favorites (and join us for our Adrenal Challenge!)... and get ImmuPro tablets, Acceptance Essential Oil Blend, Stress Away Essential Oil Blend, Olive Wood Massage tool, and Eucalyptus Globulus OR FREE plus 35 points (up to 75!!) to use as product credits!
Nutmeg Essential Oil - for adrenal and thyroid health
En-R-Gee Essential Oil Blend - for energy, naturally!
Super B Tablets - for energy and vitality
NingXia Red Combo pack - for adrenal and immune health & energy
Super C Chewable - our favorite vitamin C!
OrthoEase Massage Oil - for soothing sore muscles (also great as a carrier in immune rollers!)
How does it work?
Every month this generous company loads us up with free items simply for being loyal customers. We purchase items we'd be buying anyway - toothpaste, lotion, shampoo, makeup, supplements and cleaning supplies, etc - from Young Living, and we not only get amazing, high quality products that are safe for our families, we get free products, delivery to our doorstep and product credits galore! Just make sure to order a minimum of 50PV to get your Loyalty Rewards!
Gift With Purchase & Loyalty Rewards FAQs:
What is the gift with purchase? Basically the best way to order ever! You purchase products and YL sends you free ones! Each month you'll have new picks for every tier. What's a tier? Basically, the more PV (product volume) you order, the more free products you receive!
Order at least 50PV to earn Loyalty Reward points.
Order at least 100PV to qualify for free gifts
Every time you increase your order volume (up to 300 PV) and qualify for a new tier, you receive free products.
Earn points on products
Not only do you receive free goodies, but if you place a 50 PV+ order each month with the Loyalty Rewards program, you'll also earn points on each purchase, which you can redeem for future products.
Earn exclusive gifts
If all those perks weren't enough, subscribers receive a free loyalty gift as a thank you each time they reach a benchmark anniversary of 3 months, 6 months, 9 months, and 12 months of ordering!
'Tis the season for some of our favorite winter and holiday products to make their annual return – and with some amazing new friends as well! What are you hoping to see?! Make sure to check back on October 4th for all the fun happenings!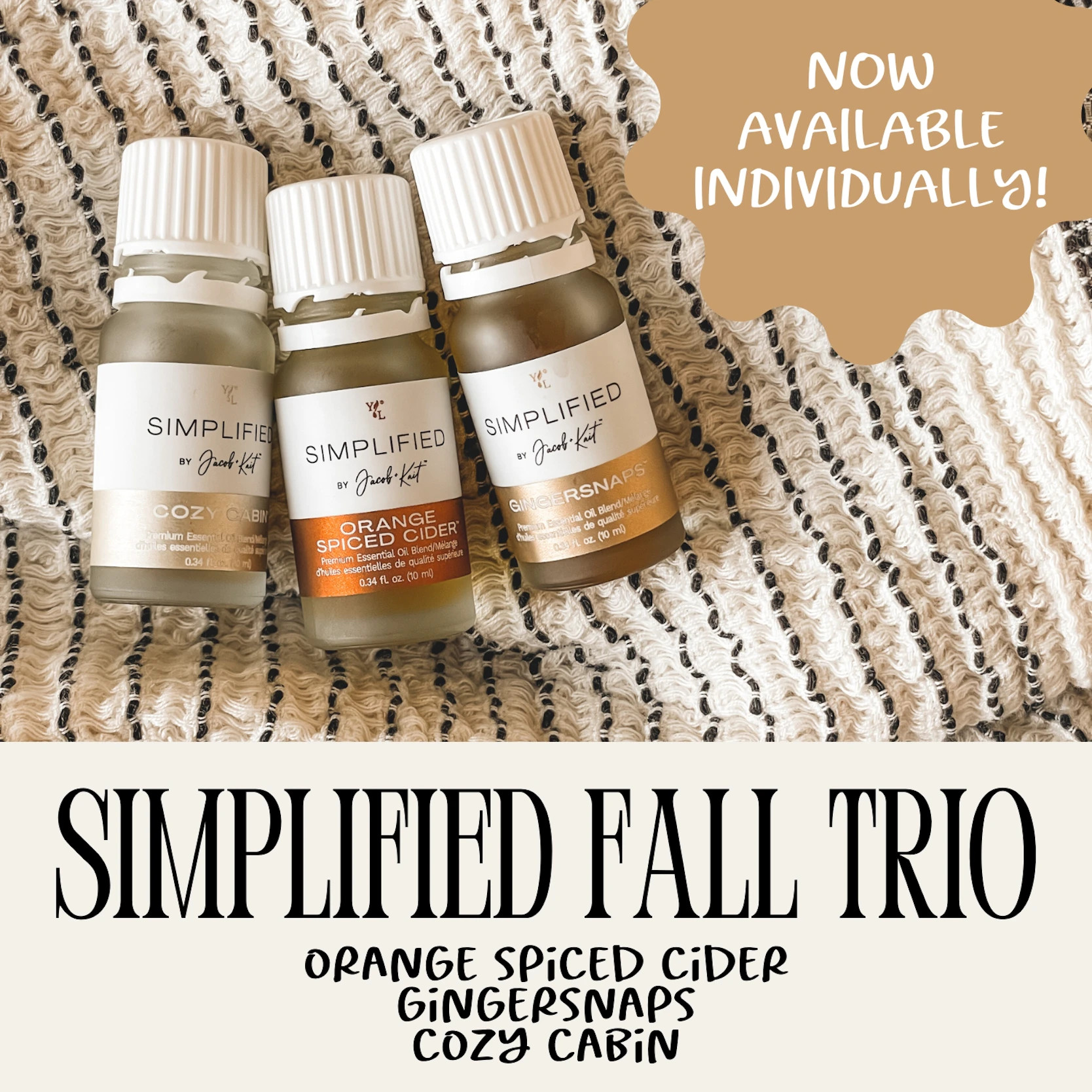 SIMPLIFIED FALL COLLECTION
SIMPLIFIED FALL COLLECTION
Cozy up to all this season has to offer with these fan favorites -- Orange Creamsicle, Gingersnap & Cozy Cabin!! While many fall-scented candles and air fresheners contain harmful chemicals that can pollute your home, these blends are made exclusively with good, clean ingredients straight from nature. All the goodness of an autumn candle with none of the toxins! Curl up with these three autumn-inspired essential oil blends (and a free diffuser while supplies last!!!) reminiscent of crisp fall days and all the things that cozy season needs.
Want to stock up on one of these favorites? These fall blends are now available as singles!
Cozy Cabin essential oil blend:
Has a woodsy, smoky aroma inspired by a cozy cabin getaway
Creates a comforting, tranquil environment for family gatherings
Transforms your space into a snug, intimate escape in the mountains
Features Hong Kuai essential oil from our farm in Taitung, Taiwan
Gingersnaps essential oil blend:
Has a delectable, spicy-sweet scent you can almost taste
Brings a homey, cheerful vibe to any space
Makes your home smell like a warm, sweet-smelling bakeshop
Made with real Madagascar Vanilla oleoresin
Orange Spiced Cider essential oil blend:
Has a rich, citrus, cinnamony aroma just like your favorite chilly-weather drink
Creates a cozy, uplifting nook for curling up with a good book
Transports your senses to a festive fall evening by the fireplace
Includes Cassia essential oil for a hint of soft spice
PLUS, the Simplified by Jacob + Kait Fall Collection Includes a free Dewdrop Diffuser while supplies last!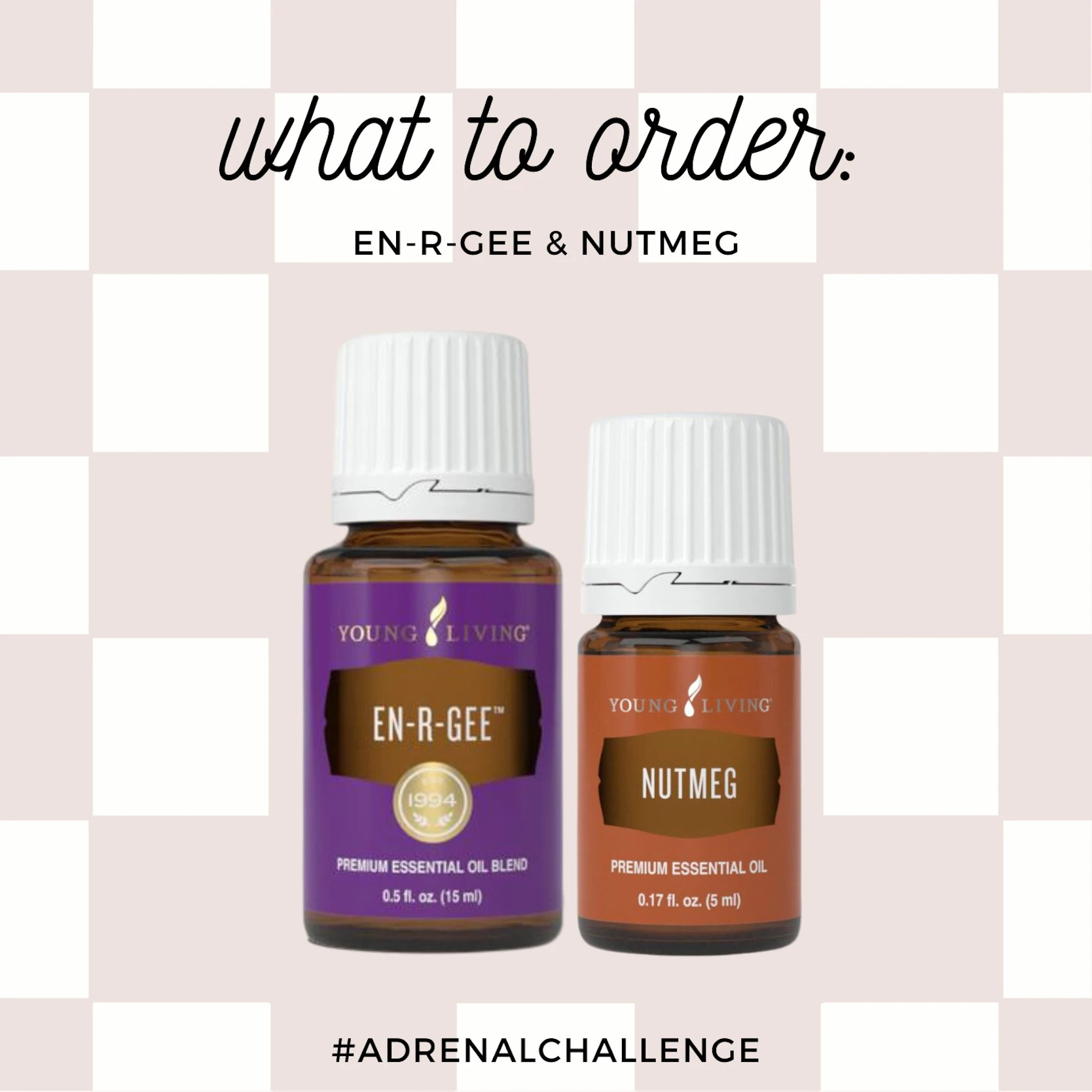 Do you ever feel crazy because technically you're "healthy" and "fine," but you always feel drained and depleted?
Do you struggle to recover after a sickness, a stressful event, or even a few late nights?
Do you start your day and run out of gas before you even begin, only to get energetic late at night and repeat the cycle all over again?
Have you tried everything to help your hormones, blood sugar levels, cravings, and weight but all the things people tell you aren't working?
There may be two tiny little glands in your body that need some love. Your adrenals.
The adrenal glands are small organs that sit on top of the kidneys. They maintain and boost our energy, kind of like a car shifting into first, second, and third gear as we go about our day. They also help our body survive during times of stress. Since many of us live in a state of constant stress, they wear down quickly.
The adrenals are part of the endocrine system. Also known as the suprarenal glands, they're involved in producing over 50 hormones that drive almost every bodily function, many of which are essential for life.
Adrenal glands play a huge role in stress response. Here's how it works:
Your brain registers a threat, whether emotional, mental or physical.
The adrenal medulla releases cortisol and adrenaline hormones to help you react to the threat (the fight-or-flight response), rushing blood to your brain, heart and muscles.
The adrenal cortex then releases corticosteroids to dampen processes like digestion, immune system response and other functions not necessary for immediate survival.
Your adrenal glands are also responsible for balancing hormones.
Our adrenal glands aren't meant to always be firing. They are there to jump in when needed and not be running the whole show. But excessive caffeine, lack of sleep, emotional stress, demanding schedules, hormonal imbalance, diet, alcohol abuse, and always pushing ourselves to the max can damage the adrenals to cause them to fatigue. This pushes us into a 'survival mode' both physically and emotionally.
Fortunately, supporting your adrenals can be a pretty simple process. But functioning when they have given up? Almost impossible.
Join us this month as we use two oils to give our adrenals the TLC they deserve!!
For more details check out the Adrenal Challenge: Start Here resource!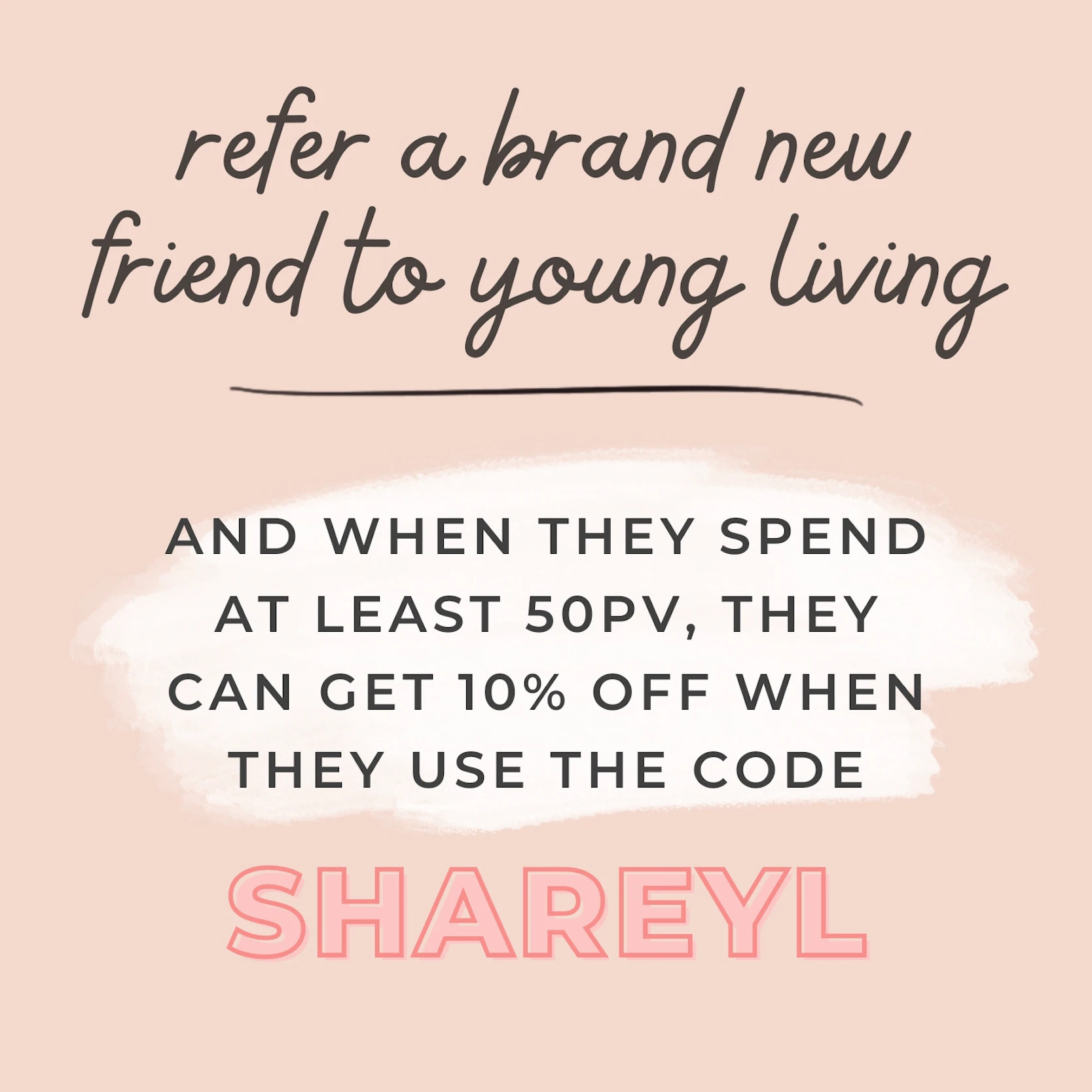 Did you know that you can share your love of Young Living with your friends and family and get 25% back in product credits?! Or you could upgrade to a Brand Partner, make commissions, and win some fun prizes!!
If you're a Customer, be sure to share your favorite products with your friends and family using your Young Living personal referral link. When they use the link to place a 50+ PV (point value) first-time order, have them use the code SHAREYL at checkout to get 10 percent off. Plus, you'll earn 25 percent of their order's PV in product credits for use in your future orders!
If you're a Brand Partner (or buy a Business Essentials Kit for $1 to become one!!), share your faves using your Young Living personal referral link or wishlist link. Remember to give your new Customer or Brand Partner enrollee the SHAREYL code to use at checkout when they place a 50+ PV first-time order so they can save 10 percent. As a Brand Partner, you'll earn 50 percent in Fast Start Bonuses on all PV purchases your new Customer or Brand Partner enrollee makes in their first month.
HOW TO FIND YOUR PERSONAL REFERRAL LINK
Log into your YL account.
Click the menu.
Click 'SHAREYL'
Copy/paste that referral link and share it with your friends/family!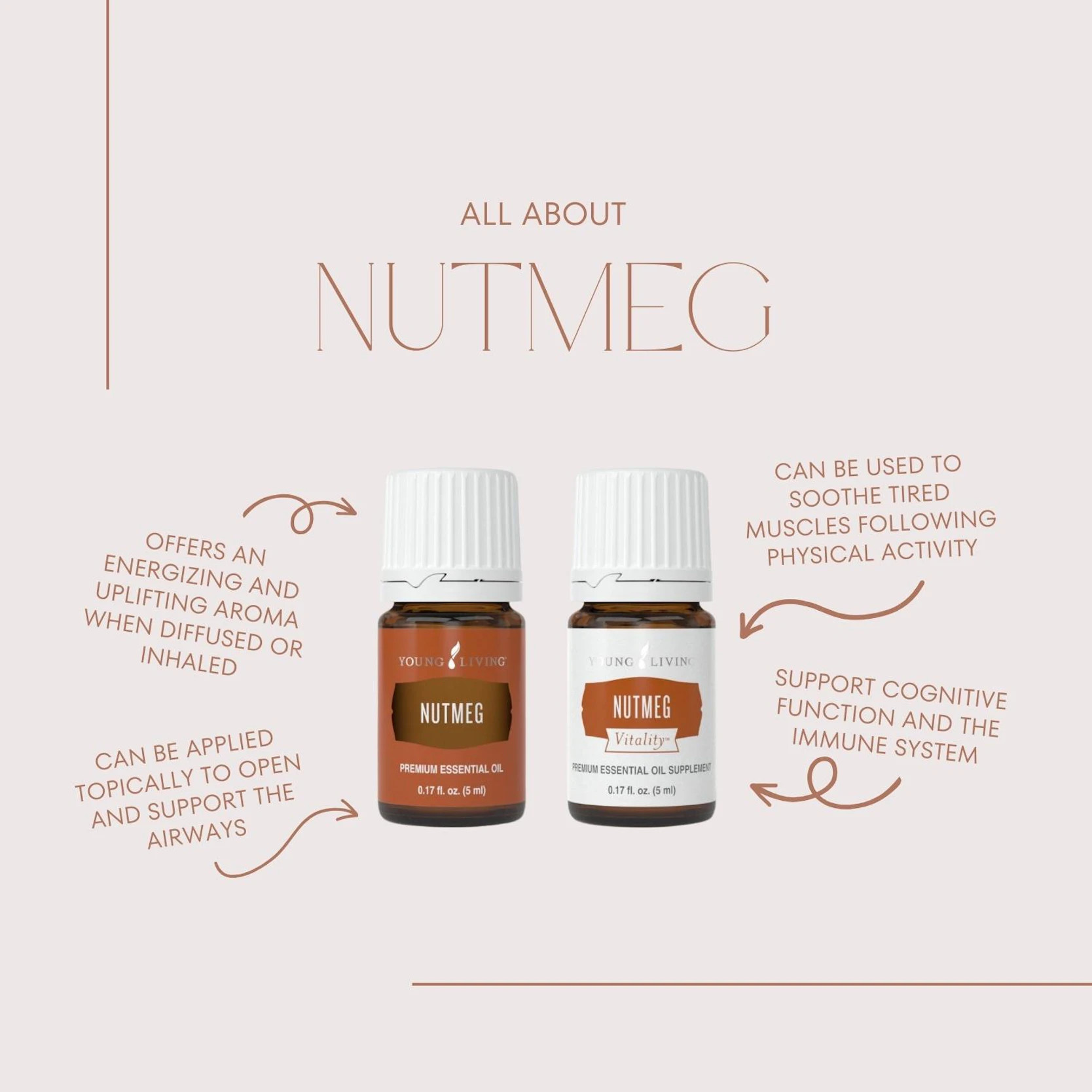 Nutmeg is an essential fall scent. Warm and welcoming, grounding and so good for our immune and adrenal systems! But it is SO much more than that. Nutmeg helps our bodies to manage stress responses naturally - something that everyone needs these days. Plus it is great for focus, energy, and vitality!
JUST A DROP OF NUTMEG
Has a warm, spicy aroma
Offers an energizing and uplifting aroma when diffused or inhaled
Can be applied topically to open and support the airways
Can be used to soothe tired muscles following physical activity
Helps support the body's stress systems and adrenals
Support cognitive function and the immune system
Contains antioxidants
Offers cleansing properties
If there were one oil you could use to support your adrenal system (the stress system!) it would be Nutmeg. This oil is high in the constituents sabinene, alpha-pinene and beta-pinene, making it a wonderful option to support the digestive system, to protect the liver, to help maintain healthy circulation and to provide the adrenals with the support they need on a daily basis.
Read more in the Nutmeg Spotlight!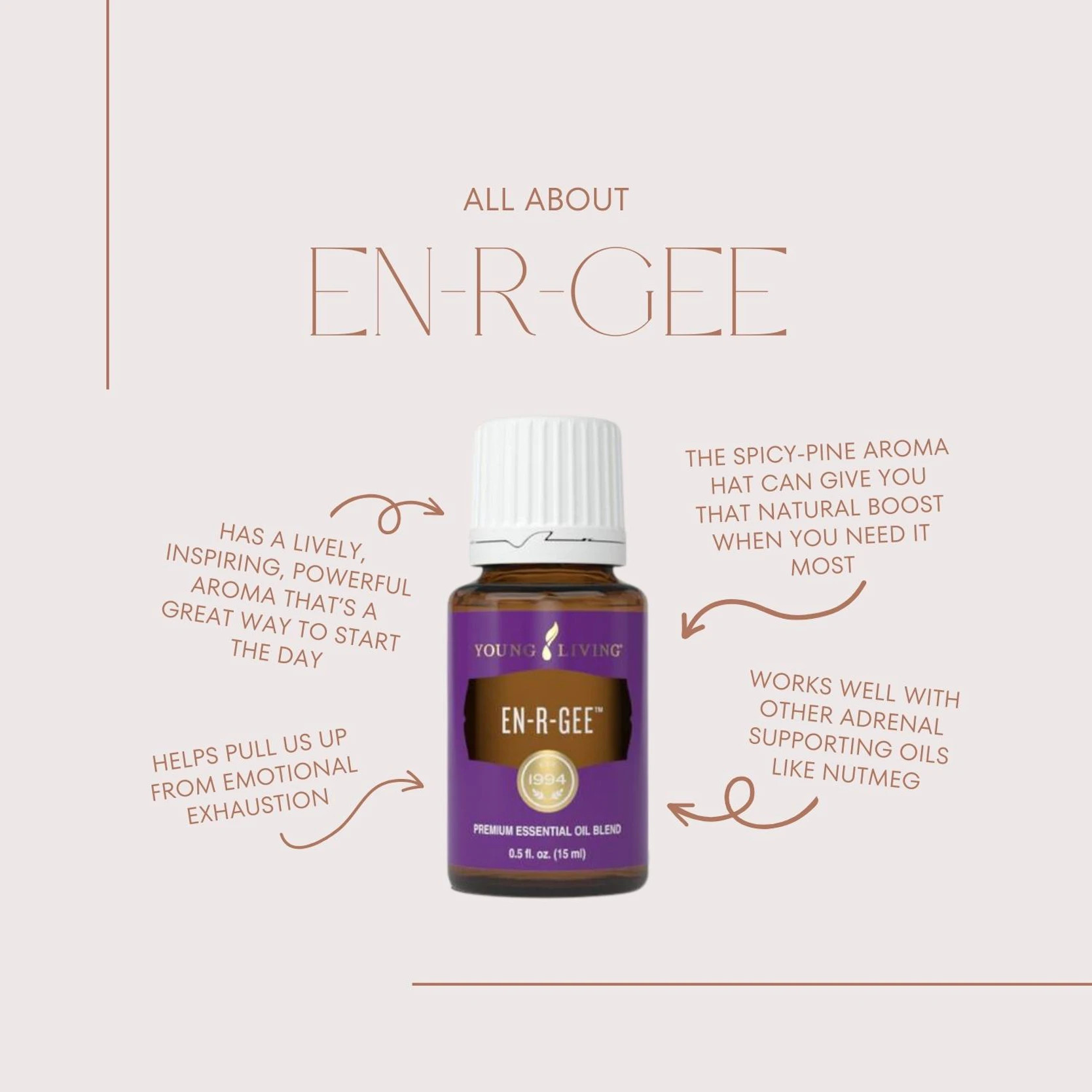 En-R-Gee in a bottle! This stimulating blend combines Rosemary, Juniper, Lemongrass, Nutmeg, Balsam Fir, Clove, and Black Pepper to keep you invigorated and energized throughout your day.
JUST A DROP OF EN-R-GEE
Has a lively, inspiring, powerful aroma that's a great way to start the day
The spicy-pine aroma hat can give you that natural boost when you need it most
Works as an aromatic pick-me-up in the afternoon
Helps pull us up from emotional exhaustion
Works well with other adrenal supporting oils like Nutmeg
En-R-Gee is a daily favorite for many reasons, but it is especially a favorite during times of stress. (Because stress and energy just might be related…) En-R-Gee has oils that are alerting and stimulating, help the physical body rebalance our adrenals, and help us release emotions that are weighing us down!